From the desk of Chancellor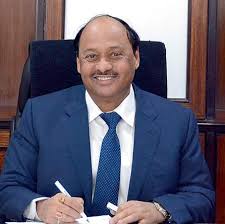 Since its inception, Bharati Vidyapeeth Deemed to be university has emerged as one of the prominent University in India. It is established by Founder Chancellor, Dr. Patangrao Kadam with an objective to bring all round social transformation by providing quality education and holistic development of its students. As one of the most trusted global knowledge destination, University has made astonishing strides in the field of education.
The year 2018-19, was a significant year for the University on many fronts. The biggest achievement was the accordance of Category- I University Status by University Grant Commission. The ranking profile of the University was strengthened by being ranked at 66th position in NIRF 2018. Throughout the year the university continued its focus on excellence in academics and research. Faculty members strengthened their research profile by publishing their research work in highly reputed International and National journals having high impact factor and indexed in Google Scholar, Scopus, and Web of Science. The partnership with the industry was strengthened by successfully securing the major and minor research projects. The university also entered into various national and international collaborations.
What we have achieved so far is greatly admirable. But in this dynamic world, we are aware about the demand for highly qualified professionals in every sector. The responsibility of fulfilling these expectations lies with us. | have no doubt that Bharati Vidyapeeth Deemed to be University will be able to fulfill it with the joint efforts and cooperation of its management, faculties and staff.
I congratulate to the Vice Chancellor for his continued efforts in bringing the University to the higher pinnacle of academic excellence.
Dr. Shivajirao Kadam
Chancellor,
Bharati Vidyapeeth (Deemed to be University), Pune