From the desk of Vice Chancellor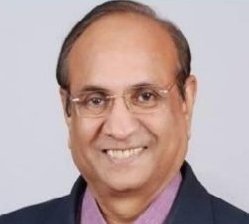 It is a matter of immense pleasure for me to be a part of the Bharati Vidyapeeth (Deemed to be University) family as its Vice Chancellor. | take this opportunity of welcoming new students joining the College of Engineering as well as the Faculty of Management Studies in undergraduate as well as postgraduate programmes. Most of such students move away from the folds of their family and need to feel that they are just moving away from one family fold to another. Their teachers seniors and peers, all form an extended family from whom they can look up for any guidance support and help to move ahead in life as professionals in the study programmes they have opted.
The College of Engineering offers graduate, post graduate programmes and Doctoral programmes. The college has earned its reputation owing to its excellent infrastructure as well as qualitied faculty. In terms of credentials, the College of Engineering is one of the few institutes in the country which has Programmes accredited by National Board of Accreditation (NBA) twice and application for the third cycle of accreditation is underway. This is the only institute selected by MHRD for its Technical Education Quality improvement Programme (TEQIP-II- 1.1 Programme) for the grant of Rs. 4 Crores.
Like any other area of science, engineering technology is also going through rapid changes. As far as high quality engineering education is concerned in such an ever-changing area, an institution needs to keep itself always updated through course curriculum, laboratories resources and most importantly faculty. We have a team of qualified, experienced & dedicating teaching faculty in the faculty of management Studies for constant updation of syllabi. The respective departments are supported by equally dedicated qualified laboratory staff.
Under the Faculty of Management Studies, we have courses taught at our Management Schools located in Pune, Sangli, Solapur, Kolhapur, Karad and New Delhi. Also we have an Institute for Hotel Management and Catering Technology in Pune. We have a continuous process of updation of syllabi, as far as high quality Management education is concerned. In order to impart education, Liaison with industry in the form of industrial visits, students training, expert lectures and arranging of seminars & workshops are an integral part of our educational program.
The colleges have a well designed building and other well equipped infrastructural requirements with state-of-the-art facilities. Our curriculum goes through regular revisions to incorporate new developments for imparting the course contents and knowledge beyond syllabus given in the University curriculum. Ours is a multi campus university with multi disciplinary approach. We produce graduates to become future leaders in industry, academia, government and the society. Through a good blend of course work and projects, the departments endow students with the ability to apply knowledge in multidisciplinary teams, provide leadership and technical expertise, and practice their professions with ethical approaches and concern for society and environment. We have a team of qualified, experienced & dedicated teaching faculty for constant updation of syllabi. Research is an inclusive part of the teaching and our faculty members publish research papers in indexed journals of repute with impact factor. Active interaction of learners with faculty and other academicians & professionals in the field provide exposure by way of seminars, workshops etc.
The campus is ICT enabled and the colleges provide an e- learning and e-connect environment, along with class coordination system, document management system as well as virtual class rooms. The university is situated in a serene environment. The serenity along with a complex structure of curricular, co- curricular and extra- curricular activities will shape your physical, mental and intellectual growth. As a student of Management/Engineering, you are the torch bearers of latest technology. You have the responsibility of developing an environmentally and socially sustainable society.
|, wish and assure you, on behalf of the university family, that we will help you pursue your objectives of life under the varied social, cultural and economic environment and make the University family proud of your attainments.
Prof. Dr. Manikrao Salunkhe
Vice Chancellor,
Bharati Vidyapeeth (Deemed to be University), Pune