Facilities
Learning Facilities
The Institute has specious class rooms, conference and seminar halls. The Institute has a special skill lab for developing the managerial skills of the students. All the rooms and halls are aptly ventilated and lighted./p>

The students are provided with audio visual aids for learning like LCDs, OHP and audio systems. The students have a special dress code including blazers.
Information System Centre /Computer LABs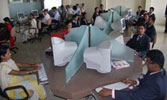 Information System Centre The institute has a well versed computer lab where students are acquainted with the Information System today. There are five computer labs each having capacity of each 30 P-IV computers.
All these computers are in LAN and have a well powered backup. The Information System Centre is professionally managed and equipped.
All the computers have protected by Quick Heal Console Unit. 250,2,9
There is a special internet lab where students can access to Internet for 10 hours a day. An Internet lab has set up in C-S Environment with a Firewall built-in to prevent virus through internet access from creeping into the system.
It is backed by Windows 2007 and Linux server. It has more than 250 computers with latest configuration. It has internet connection with speed of 50 MBPS (Leased Line). The LCD projectors and printers are also made available to the faculty members and the students.
Library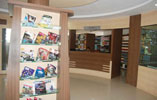 The institution has augmented the Infrastructure to keep pace with academic growth. It has an up-to-date library with facilities like Open Acess System, Book Loan Scheme, DELNET and SOUL; it has an Internet lab and a Server with a Firewall built in to prevent virus through internet access from creeping into the system.
The library houses more than 23,562 books and over 50 National and International journals and magazines. It is equipped with digital system via audio-visual facilities through videocassettes, tapes, CD-ROMs and VCDs & Internet connection and acts as academic resource for Research work.
It has an open access system for all faculty and Book Bank facility for students as unique feature. Institute has the membership of British Council of India and recognized libraries in Pune. J-GATE (Online Journals) are part of our world class Digital Library.
There is a separate Reference book section in which the students and the staff members sit in the reference room section. The students take out the points and keep the books at the required position
Recent books, CDs and periodicals are added every year. The faculty is provided with internal facility through LAN.
The timing of library is also flexible enough to provide all the library facilities to all the students. During examinations it is kept open on Sundays and public holidays too.
Librray E Resouces for more infromation Click Here...
Sports
The institute has encouraged its students to participate in extracurricular activities including sports and games.

We have facilities for outdoor games.

We have volley ball / Ring tennis ground in the premises.

For games like football and cricket we use Nehru Nagar Ground belonging to the state govt.

The table tennis – indoor game facilities is available in Boys common room.